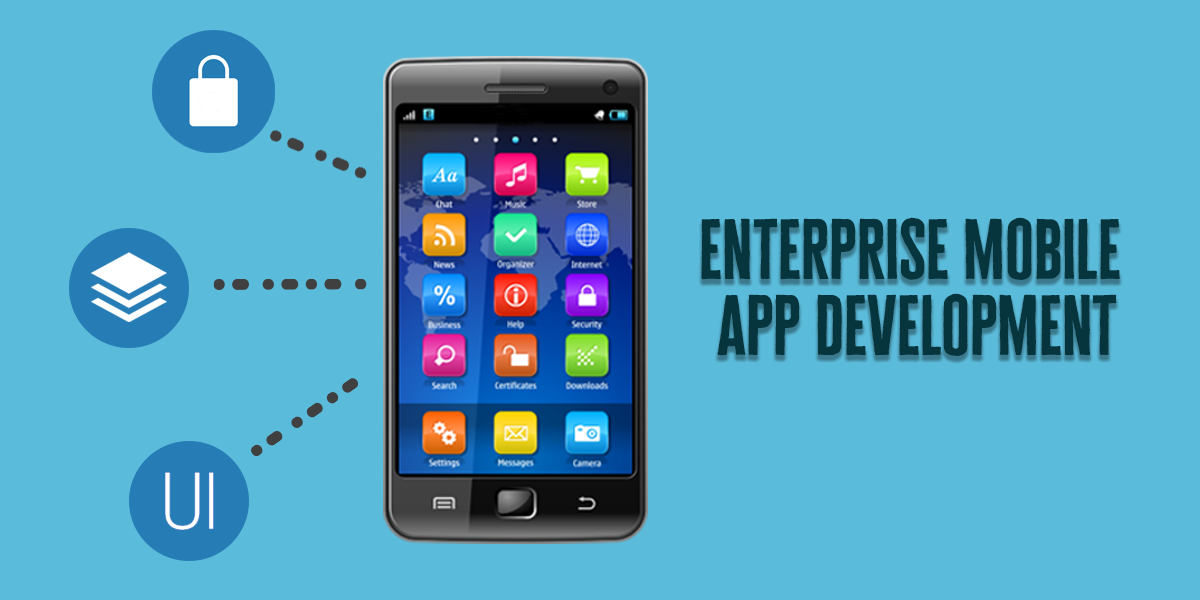 An enterprise application is the phrase used to describe applications (or software) that a business
would use to assist the organization in solving enterprise problems. When the word "enterprise" is combined with "application," it usually refers to a platform that is too large and too complex for individual or small business use.
Enterprise applications are typically designed to interface or integrate with other enterprise
applications used within the organization, and to be deployed across a variety of networks
(Internet, Intranet and corporate networks) while meeting strict requirements for security and
administration management.
In other words, an enterprise application is a large software system platform designed to operate in a corporate environment. Enterprise apps are complex, scalable, component-based, distributed and often mission-critical. They are also becoming an integral part of every company's digital strategy. In this article, we'll talk about the latest trends in enterprise application development…
Security will become increasingly important: With an exponential increase in cyberattacks, companies are making app security a top priority in their development efforts. According to Gartner, about 75% of mobile apps fall well below basic security expectations. Also, close to 86% of mobile apps have experienced serious issues regarding authentication,
confidentiality, and access control. As security breaches become more common, security is
finally getting the attention it deserves. Businesses will strive to plug the security gaps in
enterprise apps, thereby resulting in an incredible customer experience.
Development of apps will be done by users with little or no knowledge of application development: This means that anyone from HR managers to business analysts to salespeople and everyone else in a corporate environment can develop their own
applications using IT-sanctioned development software. This trend is going to explode in the
coming years, as business users get the solutions they need and the IT department does not
need to worry about users licensing third-party applications.
Increase in demand for hybrid apps: There is an increase in the usage of hybrid mobile apps, as opposed to native mobile apps. Hybrid mobile apps are written in HTML, CSS and
JavaScript but are wrapped by a framework and made to be a downloadable app. Today,
using this technology works out to be more cost-effective. Also, hybrid apps perform better
than they did in the past. And finally, building a web app from a hybrid app is much more
efficient, as you can reuse much of the application code.
App Refactoring and App Transformation: App Refactoring takes a Windows App that is meant for a desktop and then allows you to draw a new user interface that can be easily used from a smartphone or tablet.
Front-end technologies will be used to create more powerful web applications: The shift towards client-side development, has resulted in a push towards front-end technologies.Users are demanding stronger and more responsive web applications that rival mobile apps and desktop software. Due to this, more of the application must be put in the browser.
Responsive and adaptive design will disappear: This means that responsive and adaptive design will become a part of normal web development and design. Both responsive and adaptive design deliver applications that adapt to any device. Now, you shouldn't wonder whether or not to build responsive or adaptive applications. Every application you build must adapt to any device.
Managing data: Increasingly, enterprises are learning to use data, which is helping them
improve operations and customer service. This means that they are relying more and more
on enterprise apps for not only delivering timely information to customers, but also in
empowering employees with real-time access to data.
These are some of the latest trends in enterprise app development. Keep these trends in mind when embarking on the complex journey of building an enterprise app that cost effectively meets the needs of your target users and works well with any device.
If you are interested in developing an enterprise app for your company you can get in touch with
Devship. We specialize in creating enterprise apps for a variety of companies. So, drop us a line for
an initial consult and be well on your way to build that killer enterprise app!
For more information on how you can build an enterprise application tailored to your business
needs, contact Devship at 425-270- 7096 or at letstalk@devship.io or take a look at our website,
www.devship.io.